We are currently accepting new patients.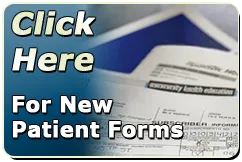 Here is what you can expect at your new patient appointment:
1.Full set of xrays - These may include a panoramic xray. If you have recent xrays, please mention this to the receptionist when you make your appointment and arrange to have these mailed/emailed to us.
2.Full set of photographs - These are obtained in order to capture a baseline appearance of your teeth, and your bite. Any issues that may be present will be magnified and visible to you.
3.Oral cancer screened - A full exam of the soft tissues of the oral cavity and surrounding extraoral skin, as well as lymph nodes
4.Comprehensive periodontal exam - checking the health of your gums and bone surrounding your teeth. This exam will determine what kind of cleaning is most appropriate for you.
5.Comprehensive dental exam - Evaluation of your dentition in conjunction with your x-rays.
6.Hygiene - Your cleaning will take place at this visit. You may require additional visits to complete your cleaning depending on the results of your periodontal exam.
*Please allow at least 1.5 hours for this initial appointment. There are 8 forms that need to be filled out for this visit. These are available to you at the time of your visit or on the website below the new patient tab.